Itsy Triple Bundle
$74.99
Free shipping for orders over $35

16% Savings
They say "good things come in threes" and this summer special is no exception! Get three itsy packs in this one fun bundle! These small but mighty mini packs can be enjoyed individually for independent play or combined for collaborative or competitive play. This is sure to be a wonderful treat for kids and kids at heart age 4+.
Main Features
No setup, batteries, or screens needed
More pieces for more possibilities (and fun!)
Top quality, eco-friendly pieces for hours of play
Light and compact, simply stack and pack
Free access to more builds, tips and tricks
In The Pack
Customer Reviews
09/15/2020
Sean M.

US
OurChildrenAreSoEngaged!!!
Brilliantdesignandexecution!Whatawonderful,scaleableexperienceformytwogirls....bravo!Bytheway,Iamnotsurewhatisgoingonwiththisform....Icannotputanyspacesbetweenwords!LOL....
08/20/2020
Vanessa C.

United States
So many colors and possibilities!
I originally wanted the Rainbow pack but decided to get this one instead so that both my children and my husband (the biggest kid of them all) could each have a set of their own. These toys have brought our household so much joy! They're easy to bring on road trips and they're fun to put together. I wish these ones came with the yellow spinning things that the Crew and Rainbow sets have but overall, we're all happy and satisfied with these kits. Attaching a picture of a cool alien my 5 year old daughter created!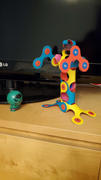 Expand your creation possibilities…
Expert Reviews
Dr. Azi Jamalian, The Giant Room
"Clixo has low floors in that it's super easy to pick up and build, high ceilings because the sky's the limit, and wide walls in that it's applicable in different settings from kids to adults. It connects 2D perspective to 3D design and helps turn design ideas and bring them into reality."
Eric S., Early Learning Center
"Clever design appeals to both girls and boys in my classes. Clixo improves attention and focus, critical thinking, problem solving, and spatial awareness. Fun for kids and adults!"
Dr. Jessica Meizi, The Giant Room
"This fits in perfectly with our STEAM programming. It incorporates creative thinking, science and technology and experimentation. It's a super powerful tool because it's open ended and you get to define how you use it. I love it."
FAQs
Clixo pieces are built for kids ages 4 and up. Children and adults of all ages love them and use them for both playing and prototyping.
Yes. Clixo pieces are modular and can be used together with pieces from other packs. 
Through its ingenious design, Clixo enables kids to learn science, spatial, and tactile skills from turning flat 2D shapes into 3D objects.  The pieces also encourage experimentation, enabling kids to turn abstract concepts and creative ideas into tangible reality. Elements in the design also involve certain constraints, which help foster soft skills like creative thinking, patience, and persistence.
There are many factors that make Clixo infinitely unique. Unlike other building sets on the market, Clixo pieces are flexible and don't require a flat surface to build or play. The pieces also stack easily and pack light, to make it easier for kids to play with or wear on the go. Strong durable magnets enable kids to stick it to any magnetic surface for even more play possibilities.
Safety is a priority for Clixo. All Clixo products have passed numerous laboratory tests and are compliant with federal toy safety standards including ASTM, EN71, and California's Proposition 65.
Clixo pieces are made from recyclable and durable synthetic paper with strong-embedded magnets for maximum safety. The materials are proprietary, kid-safe (non-toxic), and specially developed for our brand. Our packaging is made from recycled bamboo and is sustainably manufactured.
Each of our product pages contains reviews from verified buyers (we use a third party service to ensure their authenticity).
For additional photo or video reviews, we've also collected some non-sponsored reviews (and tagged the reviewer where possible). These are compiled in the highlights sections of our Instagram page.
No worries. We have a whole page with other questions and answers over here.